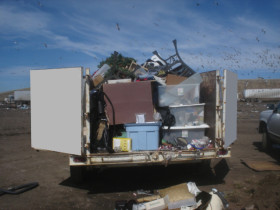 Whether you're a real estate agent faced with an estate cleanout or a homeowner struggling with copious amounts of construction debris, you'll need to find a dumpster service if you want to have a successful project. At A Dump Chump, we offer affordable dumpsters to a variety of different clients throughout the San Bernardino area. Whether you need basic trash removal assistance to clean up your landscaping waste or sizable junk hauling support for old furniture and appliances, you can count on us to provide you with all of the resources you need. Because we want to make certain that our cleanup service is available to as many people as possible, we strive to make our dumpster rates extremely affordable. Your satisfaction as a customer is our top priority, so you can expect nothing short of knowledgeable assistance and friendly service.
For garbage removal of all capacities, A Dump Chump is your ultimate solution. Give us a call for prompt dumpster if you're undertaking any of the following tasks:
Appliance disposal
Furniture disposal
Foreclosure cleanout
Estate cleanout
Construction cleaning
Yard cleanup
Trash removal
Junk hauling
And more!
A Dump Chump has been in the dumpster business since 2000. We have more than 11 years of experience helping customers with miscellaneous trash removal and junk hauling projects, and we'll be able to provide you with all of the tools you need for an effective cleanup endeavor. We even have contacts with subcontractors that can take care of concrete waste from construction projects! Call or e-mail us today to get started.
Reliable Dumpster Service
When you're looking to streamline your property cleanup project, investing in a dumpster service can go a long way. At A Dump Chump, we have a selection of dumpster trailer rentals that will make your life a whole lot easier. Available in 12- and 14-cubic-yard sizes, our dumpsters come on trailers with wheels for easy transportation. Our equipment can handle virtually any material (except asbestos), so you can rest assured you're getting the dumpster that's perfect for your project.
Flexible Scheduling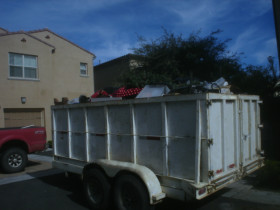 At A Dump Chump, we're all about convenience and customer satisfaction. That's why we try to be as flexible as possible when it comes to dumpsters. We know that all trash removal and junk hauling efforts vary in terms of scope, so we give you the option of renting your dumpster trailer for as few as two days or as many as seven. We let you decide on your rental schedule because we want to make sure you're able to perform your cleanup service as effectively and satisfactorily as possible. However, same-day service is subject to availability, so make sure you plan ahead!
Punctual Service
Given our commitment to customer service, we strive to meet all of our appointments and deadlines as promptly as possible. We know how frustrating it is to wait around, so we make it a point to be on time for all of our scheduled dumpsters. We're truly the team of professionals you can trust for full-service convenience.
If you're ready to get started on your garbage removal project, construction cleaning, or property cleanup service, call A Dump Chump. We're fully licensed and insured, and we'll even provide you with a free estimate! Contact us via phone or e-mail today.
The dumpster service at A Dump Chump does not include labor at this time. We also do not handle asbestos. We apologize for the inconvenience.